Not, we all hope, a model for the reconstruction of the northern Bahamas after Dorian.
from the on-line Antigua Newsroom, as linked for us by Kevel Lindsay <https://antiguanewsroom.com/barbuda-two-years-after-hurricane-irma/ >
Barbuda Two Years After Hurricane Irma
September 5, 2019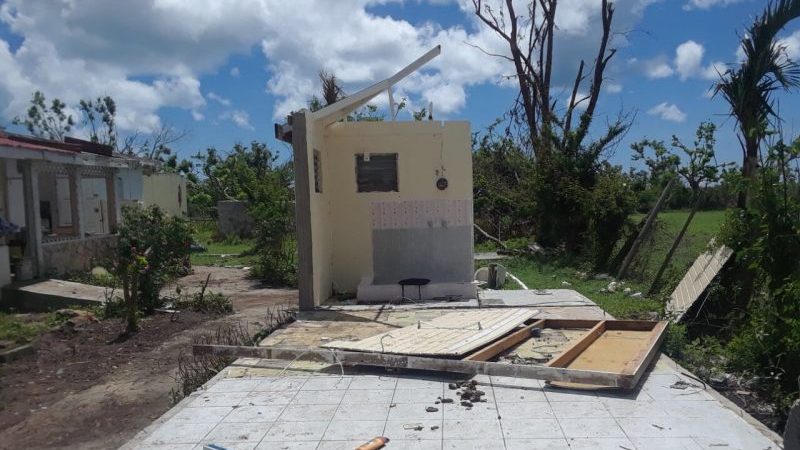 (PRESS RELEASE)
Barbudans await proactive action by decision makers in the regional judicial system to commit to hearing four high profile court cases that remain unresolved. Four legal actions have been filed over the same amount of years, 'challenging' the government's changes to centuries old land tenure system and introducing unsustainable and speculative development to the island, without consulting with the people of Barbuda.
The pending cases were filed against the Government of Antigua and Barbuda from 2015 going through to 2018 as follows:
2015 Mackenzie Frank v Attorney General, Barbuda Council and Paradise Found (Robert De Niro).
2016 Trevor Walker MP, Mackenzie Frank and 110 Petitioners v Attorney General and Paradise Found (Robert De Niro).
2018 Trevor Walker MP, Mackenzie Frank, Wayde Burton and Barbuda Council v Attorney General.
2018 John Mussington and Jackie Frank v Development Control Authority (DCA), Antigua and Barbuda Airports Authority (ABAA), The Attorney General of Antigua and Barbuda and the Barbuda Ministry of Justice and Legal Affairs.
Two of the cases are pending in the Eastern Caribbean Court of Appeal, and two still are pending at High Court level on Barbuda's 'sister isle', Antigua.
John Mussington a Barbudan living in Barbuda stated, "The extensive delay and lack of progress with our recovery feels like a deliberate ploy by the government to punish Barbudans for rejecting its version of 'development' plans, and to discourage return and re-establishment of the community. We as a people are dedicated to tackling these issues head on; we will not give up."
As Barbudans at home and around the world reflect on the lack of consistent progress with the rebuilding and revitalisation of the island post Irma, sustainable development planning and ethical government conduct is still very much a critical area of global public interest.
Since Hurricane Irma impacted Barbuda on September 5 2017, islanders of Barbuda have faced a bitter battle between speculative development and traditional land tenure. More recently concerns have been raised that the Government of Antigua and Barbuda have been brokering deals and allowing the lease of lands, under the new Barbuda Land Act of 2018 by allowing land to be bought and sold converting leases into freehold.
An example of such a deal involves the Coco Point Lodge lease. Coco Point Lodge is the first hotel in Barbuda, and it was built in 1959. The lease was purportedly purchased by John Paul DeJoria, a global entrepreneur and billionaire, with his partners John B. Turbidy and Steve Adelson joined together through The Peace Love and Happiness Partnership (PLH) as the leaseholders and financial sponsors of Barbuda Ocean Club. They, in conjunction with the Discovery Land Company, an Arizona, USA based group, are developing the Barbuda Ocean Club, a community advertised as a private residential resort community. Through this deal and one previously brokered with the collective by the Government of Antigua of Barbuda, DeJoria-Turbidy-Adelson group was granted a whopping 834 acres of land, including land that has been designated in 2005 as protected wetland sites under the Ramsar Convention, an international treaty for the conservation and sustainable use of wetlands.
Natasha Lightfoot, Associate Professor in the Columbia University Department of History noted, "Small islands in the region bear the brunt of industrialized nations' cavalier approach to the environment. The images of the Bahamas recall Barbuda, the US Virgin Islands and British Virgin Islands, Dominica, St Martin, Anguilla and Puerto Rico 2 years ago. A category 5 + hurricane arrival produces more than a repeating island – it's the recurrence in nature of the violence of extractive capitalism in colonial contexts."
Lawyer Beverly George, of Antiguan and Barbudan descendent now based in New York recalled, "The centuries' old maxim, that justice delayed is justice denied is clearly apparent here. While Barbudans wait for their cases to be heard, and for their government to deliver essential services, their lands are being traded for the modern-day equivalent of beads and trinkets, without their input. Unless real action is taken by the Council, the government and the courts, justice for Barbudans' will most certainly be denied and small victories, if any, will be rendered pyrrhic. "
Mussington added, "I will say this again, we as Barbudans need to be consulted and kept abreast of the government's intentions. We will defend our right to participate in the planning and to direct our own development. Given the continued dire situation in Barbuda post Irma, forced evacuation and prolonged exclusion from returning we must ask: Wealth and jobs for whom, at what cost and what consequences? The elimination of Barbudans as a people with a unique culture and history? The abolition of our communal land system and redundancy of our local government system and our Council? Destruction of our Lagoon National Park, designated RAMSAR Convention site and home to our magnificent Frigate Bird? Menial, transient jobs for some? Not on our watch, we deserve better."
There is continued collective concern among the island's population about what the impact will be of the selling of leases for approximately 100 residences at Coco Point and a further 450 residences at Palmetto, whilst pristine protected coastline and mangroves are being destroyed daily as building work continues.
Media Contact:
Barbuda Silent No More

Email: barbudasilentnomore